"One Hundred Poems of Kabir"
"One Hundred Poems of Kabir" translated from Hindi into English by Rabindranath Tagore, assisted by Evelyn Underhill. Printed for TagorePrize, for free distribution only. 
The first 10 000 copies of "One Hundred Poems of Kabir" have been printed and are ready for donation to schools in India. We have chosen Kabir and his outstanding collection of poetry proving that "a poet never dies, neither does his poetry". In our bid for revival of the poetry in India and the hope to inspire  millions of children, we will be donating one book per school throughout India.

Luminous Journey, Luminous Way
L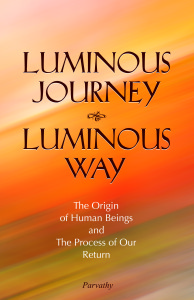 uminous Journey, Luminous Way: The Origin of Human Beings and The Process of Our Return is a recorded universal message that belongs to all people. As the previous book, "Heavenly Father Speaks – Second Arrival", this book was also received by Parvathy in a form of a God's message during 7 days. In this so to speak sequence to the first book, the Great Spirit provides simple self-help and creative guidance giving the readers step by step, practical spiritual applications for every day. Uniquely written, it is an inspiring book through which God reminds us of how to: – Find true peace of mind, reduce stress and chaos. – Regenerate our being and awaken it to life. – Discover the means of direct communication with God. – Reform our treatment of one another and the environment. – Find a model of Perfect Love and the Real Beauty. – Understand the differences of the material, astral and causal worlds. – Mature spiritually and evolve our Luminous Being. Even if you cannot fully define who God is to you, you will no doubt find this book moving and enlightening. This inspiring book is teaching us how to remember the luminous language and return to our origins, the Source.